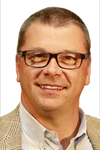 Hello and Welcome to the website of BECKMANN BIO!
BECKMANN BIO provides marketing and strategy consulting services to the pharmaceutical and 'red' biotech industry. On the following pages we provide you with detailed information about the scope of our offer and additional relevant information regarding the commercialization of innovative scientific products and services within life sciences.
We hope the content of this website is helpful to you. And at any time we are available for questions and additional information you might require. Also we are always happy to discuss with you any potential projects to unleash the full commercial potential of your organization and offers. Please contact us at your convenience.
With best regards,

Dr. Max Beckmann